Consistently brilliant
Few design tools are as powerful as colour. It can instantly make a room feel warm or cool. It can be used to make a real statement of intent or create a sanctuary of restraint. It can even boost our wellbeing. But used without care, it can quickly result in a disjointed and unsettling interior space. That's why most modern kitchen designers use colour coordinated décors, to create a balanced visual design that feels instantly timeless.
With this in mind, we've developed Spectra Square-Edge to be used in several different colour coordinated areas within the kitchen. See
Use the hotspots below to see how it can work wonders beyond just your worktops.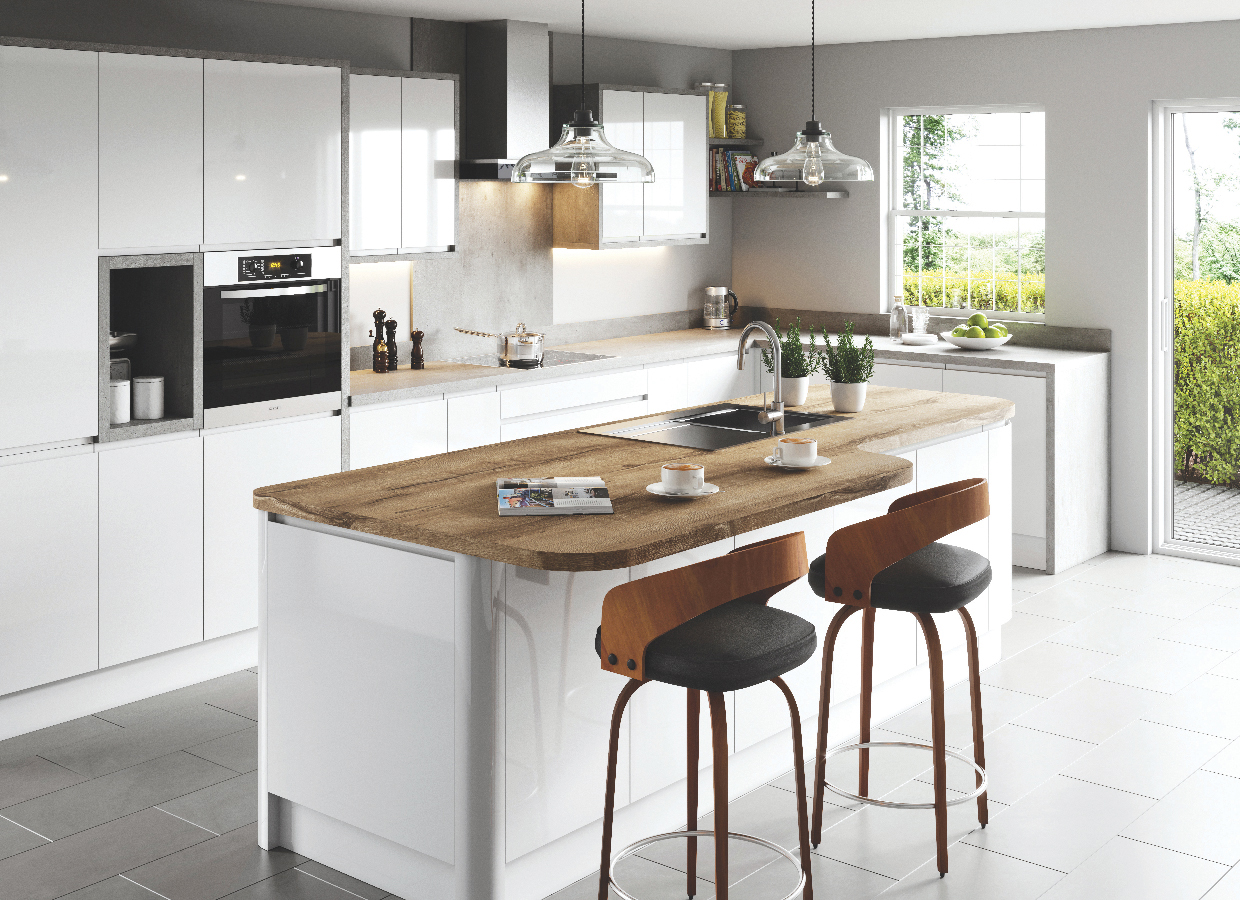 1
Cabinet framing
It's the little touches that count. By using 22mm Spectra Square-Edge you'll enjoy greater design harmony in your kitchen while also benefitting from a surface that's easier to clean and maintain than standard cabinet panelling.
2
 Shelving
Bring added functionality without compromising style with colour coordinated shelving. What's more, as every 22mm Spectra Square-Edge surface features the same décor on both sides and all edges, it'll look the part from every angle.
3
Open cupboard spaces
Creatively coordinate all your available spaces by using 40mm Spectra Square-Edge panels on your open cupboard spaces.
4
Windowsills
22mm Spectra Square-Edge surfaces provide a distinctive alternative to traditional white gloss or UPVC windowsills. They're also a breeze to keep clean and less prone to colour discolouring from prolonged sunshine.
5
Worktops
As the largest surface in the kitchen, the décor you choose for your worktops goes a long way to setting the mood. If you want your kitchen to feel bigger, opt for lighter tones. Want to make it feel more intimate? Darker tones are your friends. Luckily, we've got a wide range of both. Don't forget, sinks, drainers, taps and hobs can be installed into the Spectra Square-Edge worktop, whilst cooking and washing appliances can be easily installed below.
6
Breakfast bar and island units
With the kitchen increasingly the heart of the home, extra space is priceless. With the addition of a breakfast bar or island unit you'll have more room for sharing meals, digesting the newspaper or simply sitting down with a brew. They also provide a perfect opportunity to inject a little visual contrast into your kitchen, as shown in this example. Got a unique shape in mind? Don't forget to take advantage of our custom-made service.
7
Decorative end panels
Extend the colour coordination of your worktops, breakfast bars and island units by asking your installer to fit a matching Spectra Square-Edge decorative end panel at the gable or open end of your cabinets.
8
Upstands
Easy to clean, quick to install and highly cost-effective, coordinated Spectra Square-Edge upstands create a stylish protective barrier where your worktops meet your walls.
9
Splashbacks
This cost-effective alternative to traditional tiles helps beautifully tie your kitchen together. In addition to creating a colour coordinated protective wall panel behind the worktop, splashbacks are also easy to wipe clean.
Worktops
4050mm x 650mm x 22mm
2020mm x 650mm x 22mm*
4050mm x 650mm x 40mm
2020mm x 650mm x 40mm*
---
Breakfast Bars
and Island Units
4050mm x 900mm x 22mm
2020mm x 900mm x 22mm*
4050mm x 900mm x 40mm
2020mm x 900mm x 40mm*
---
*2020mm long worktops and breakfast bars have two long edges and one short edge bonded with the same decorative surface.
Upstand
4050mm x 100mm x 12mm
---
Splashback
3000mm x 1210mm x 8mm
---
Multipurpose Panel
4050mm x 360mm x 22mm
---
Guaranteed to deliver – Lifetime warranty
The style and practicality you desire today, the peace of mind you demand for tomorrow. That's the beauty of Spectra Square-Edge, which includes a lifetime warranty against manufacturing defects so you can be fully confident you'll enjoy your new kitchen for many years to come.
Every Spectra Square-Edge surface also comes with a simple set of guidelines to help you keep it looking super fresh with minimum fuss. What's more, in the unlikely event your surface shows unexpected wear and tear you have our word we'll make good by repair and/or replacement any surface shown to have failed due to an issue with design, materials or workmanship.
Designed for the future
Naturally, all the timber used in the production of Spectra Square-Edge worktops, breakfast bars, island units, upstands and splashbacks comes from well-managed and sustainable forests.
These are certified in accordance with the rules of the Forest Stewardship Council® and the Programme for the Endorsement of Forest Certification. What's more, thanks to our impressively realistic wood grain and stone effects and textures it's unnecessary to cut down exotic species of timber within precious forests, or disrupt the earth by mining for granite and marble.

Spectra technical data
All Spectra Square-Edge surfaces are made in Britain
Spectra Square-Edge is manufactured using the BS/EN 4965 standard. This gives you the best heat, water, abrasion and impact resistance. The BS/EN438 laminate surface is bonded to EN312/2003 E1 high density particle board.
Tried and trusted
All Spectra Square-Edge products undergo a number of rigorous tests to ensure each worktop, breakfast bar, island unit, upstand and splashback not only provides great decorative style, but also delivers superior performance against heat, water, abrasion and impact resistance*.
When it comes to checking quality, we're unapologetically exacting. It's why you'll never see us cutting corners or taking the easy option. Instead you'll find us carrying out test after test to ensure all our surfaces are of the highest standard.
* Whilst Spectra Square-Edge offers additional performance over other work surfaces, standard work surface precautions such as heat protectors and chopping boards should still be used.