We understand a great deal of thought goes into designing your perfect kitchen. From the choice of cabinets and flooring, to the style of sink and tap, it's important everything matches. That's why every Spectra Extra-Slim work surface features the same eye-catching finish on both sides.
This enables complementary open shelving and cabinet framing in the same distinctive décor and texture to be fitted in the kitchen, creating a consistent look that's sure to gain you more than a few passing compliments from guests.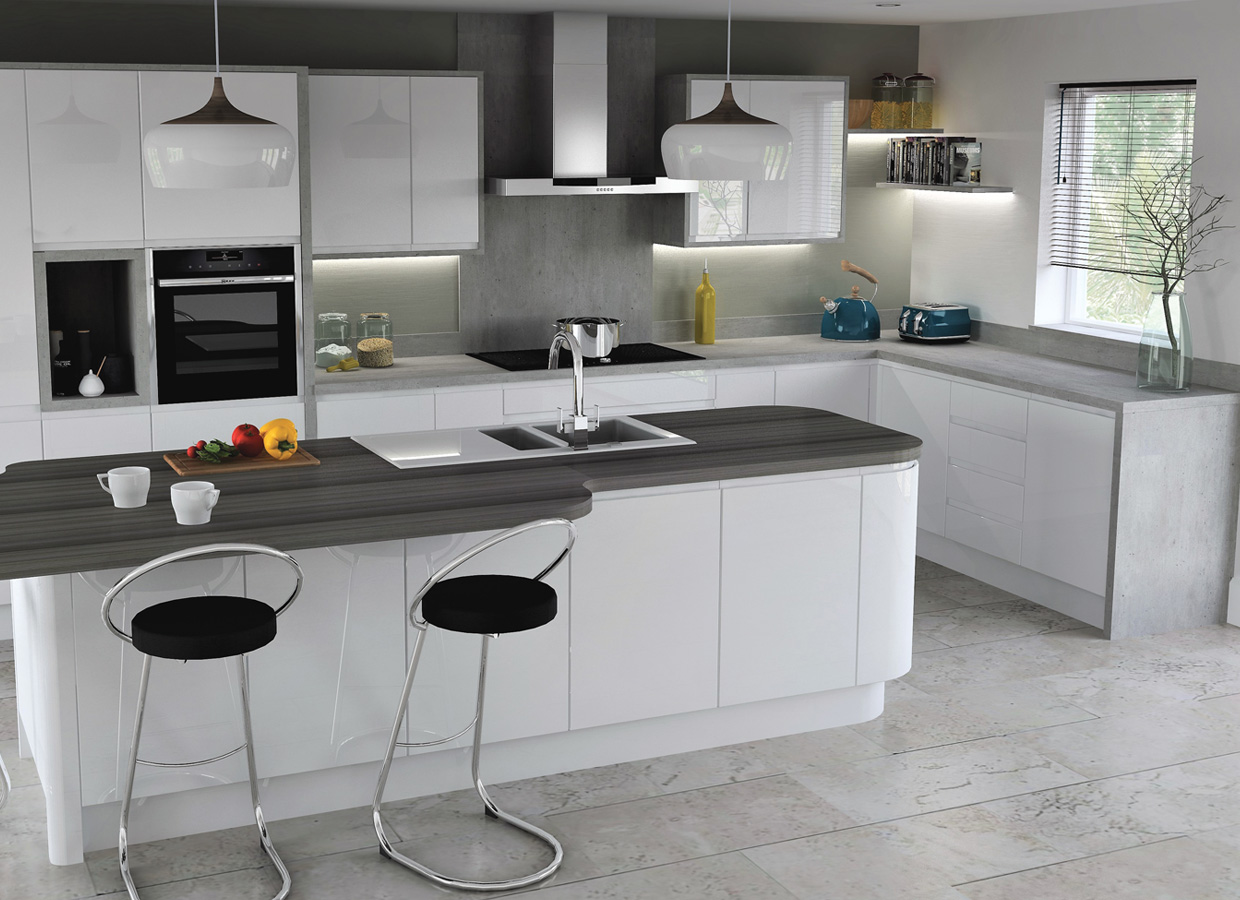 1
Cabinet framing
22mm Spectra Square-Edge is tougher than standard cabinet panelling and easier to clean and maintain. It will also help tie-in your storage spaces with your work surfaces.
2
 Shelving
Spectra Square-Edge is ideal for co-ordinated shelving, as both sides and all edges are sealed with an identical décor.
3
Open cupboard areas
Creatively match all the spaces available to you by using co-ordinated panelling on open areas within your cabinet design.
4
Windowsills
Spectra Square-Edge provides a distinctly more interesting alternative to traditional white-painted or UPVC windowsills. It's also a breeze to wipe clean.
5
Work surfaces
Sinks, drainers, taps and hobs can be installed into the work surface, while appliances can be installed seamlessly below. As the biggest surface in the kitchen, the décor you choose for the work surfaces will often lead all other colour decisions. Luckily, 22 décors and six textures are available.
6
Breakfast bar and island units
Effortlessly expand the kitchen with matching breakfast bar and island unit. If you have a more unique design shape in mind, be sure to take advantage of our custom-made service.
7
Decorative end panels
Keep the continuity of your work surface or breakfast bar décor by asking your installer to fit a co-ordinated decorative end panel at the gable or open end of your cabinets.
8
Upstands
Easy to clean, quick to install and highly cost-effective, matching upstands create a stylishly protective barrier in your kitchen.
9
Splashbacks
Easy to install and maintain, matching Spectra Square-Edge splashbacks are a cost-effective and hygienic alternative to tiles. In addition to creating a seamless look, splashbacks can also be used to create a distinctive feature wall.
Worksurface

Breakfast bar and island unit

MultiPurpose Panel

Upstand

Splashback

4050 x 650 x 22mm 4050 x 650 x 40mm
2020 x 900 x 22mm
4050 x 900 x 22mm
2020 x 900 x 40mm
4050 x 900 x 40mm
4050 x 360 x 22mm
4050 x 100 x 12mm
4050 x 1290 x 12mm
Timeless design – Lifetime warranty
We understand kitchen replacements and facelifts are an investment. One you expect to enjoy for many years to come. It's why all Spectra Square-Edge work surfaces are made from quality materials that are easy to clean and maintain. And all come with a lifetime warranty against manufacturing defects.
All our work surfaces are provided with a few simple guidelines to help you keep them looking their absolute best with the minimum of fuss. Furthermore, at their discretion the manufacturer guarantees to make good by repair and/or replace any work surfaces shown to have failed due to any defect in design, materials or workmanship.